2016年全球最具价值品牌500强:苹果谷歌三星列前三 15家中国企业进入百强
英国品牌评估机构Brand Finance发布2016年全球最具价值品牌500强榜(Global 500 2016,The most valuable brands),苹果品牌价值以1459.18亿美元位居榜首,谷歌941.84亿美元居次席,三星品牌价值达831.85亿美元排名第三。中国移动以498.10美元的品牌价值名列第九名。
品牌价值的评选标准包括产品竞争力指标(BSI)、品牌忠诚度及营销投资等。
前十排名依次为:苹果、谷歌、三星、亚马逊、微软、Verizon、AT&T、沃尔玛、中国移动、美国富国银行。
方法论(Methodology )
Definition of 'brand'
Financial accounting and reporting standards requires a clear definition of what intellectual property is included in the definition of 'brand'.
Brand Finance defines brand as the "Trademark and associated IP including the word mark and trademark iconography".
Royalty relief methodology
Brand Finance calculates brand value using the Royalty Relief methodology which determines the value a company would be willing to pay to license its brand as if it did not own it. This approach involves estimating the future revenue attributable to a brand and calculating a royalty rate that would be charged for the use of the brand. The steps in this process are as follows:
l Calculate brand strength on a scale of 0 to 100 based using a balanced scorecard of a number of relevant attributes such as emotional connection, financial performance and sustainability, among others. This score is known as the Brand Strength Index.
l Determine the royalty rate range for the respective brand sectors. This is done by reviewing comparable licensing agreements sourced from Brand Finance's extensive database of license agreements and other online databases.
l Calculate royalty rate. The brand strength score is applied to the royalty rate range to arrive at a royalty rate. For example, if the royalty rate range in a brand's sector is 0-5% and a brand has a brand strength score of 80 out of 100, then an appropriate royalty rate for the use of this brand in the given sector will be 4%.
l Determine brand specific revenues estimating a proportion of parent company revenues attributable to each specific brand and industry sector.
l Determine forecast brand specific revenues using a function of historic revenues, equity analyst forecasts and economic growth rates.
l Apply the royalty rate to the forecast revenues to derive the implied royalty charge for use of the brand.
l The forecast royalties are discounted post tax to a net present value which represents current value of the future income attributable to the brand asset.
附:全球百强品牌
全球百强品牌中国企业
GlocalWin对该文观点不作置评(GlocalWin does not intend to make any judgments as to the legal or other status of this Article)
全球百强品牌

排名

公司

品牌价值(亿美元)




排名

公司

品牌价值(亿美元)

2016年

2015年

2016年

2015年




2016年

2015年

2016年

2015年

1

1

Apple

1459.18

1283.03




51

56

ExxonMobil

192.27

182.42

2

3

Google

941.84

766.83




52

64

Cisco

191.62

163.39

3

2

Samsung Group

831.85

817.16




53

66

SoftBank

191.35

160.39

4

8

Amazon.com

696.42

561.24




54

49

Orange

190.96

198.67

5

4

Microsoft

672.58

670.60




55

45

Siemens

190.02

205.08

6

5

Verizon

631.16

598.43




56

41

Pepsi

189.47

213.79

7

6

AT&T

599.04

588.20




57

18

Volkswagen

189.23

310.25

8

7

Walmart

536.57

567.05




58

63

PwC

185.69

173.30

9

11

China Mobile

498.10

479.16




59

40

American Express

184.83

215.67

10

15

Wells Fargo

441.70

349.25




60

65

BT

184.42

161.75

11

14

Toyota

430.64

350.17




61

52

AXA

182.80

195.29

12

9

McDonald's

429.37

529.09




62

108

Alibaba

179.68

113.77

13

10

GE

372.16

480.19




63

57

Chevron

178.22

181.63

14

22

ICBC

363.34

274.59




64

58

Nissan

177.85

180.85

15

27

China Construction Bank

353.94

264.17




65

-

Xfinity

171.86




16

16

BMW

349.68

330.79




66

55

IKEA

170.09

185.40

17

12

Coca-Cola

341.80

357.97




67

73

BP

169.62

147.43

18

32

Facebook

340.02

241.80




68

86

Baidu

164.18

132.84

19

17

T (Telekom)

331.94

311.08




69

81

Barclays

162.36

142.06

20

37

Agricultural Bank of China

322.64

227.14




70

61

Mitsui (Conglomerate)

161.83

175.96

21

24

Mercedes-Benz

320.49

273.28




71

75

Deloitte

161.60

146.94

22

13

IBM

317.86

354.28




72

100

NBC International

161.03

120.04

23

23

NTT Group

316.78

147.34




73

54

Santander

156.89

187.00

24

20

Walt Disney

316.74

306.98




74

96

Bosch

156.12

123.84

25

19

Shell

316.65

307.16




75

77

FOX

155.41

145.03

26

34

Chase

306.03

233.92




76

72

BNP Paribas

155.31

149.39

27

21

Marlboro

299.35

286.08




77

74

H&M

155.10

147.15

28

31

The Home Depot

287.98

244.71




78

67

Target

153.31

153.81

29

33

Nike

280.41

241.38




79

60

Johnson's

151.15

177.42

30

25

Vodafone

278.20

272.87




80

93

L'Oréal

149.90

124.80

31

46

Bank of China

277.35

203.92




81

123

Unitedhealth

149.34

102.31

32

29

Bank of America

269.28

257.13




82

120

China Life Insurance

147.96

103.80

33

28

Citi

260.31

262.10




83

70

Total

147.37

152.03

34

38

Mitsubishi (Conglomerate)

244.61

226.79




84

80

ALDI

145.52

143.01

35

26

HSBC

241.74

272.80




85

69

Walgreens

143.15

153.45

36

53

Hyundai

236.91

193.57




86

90

au

142.09

126.77

37

43

Nestlé

233.95

212.25




87

71

Boeing

139.56

151.99

38

50

Starbucks

231.85

197.62




88

92

Hitachi (Conglomerate)

136.97

126.12

39

48

CVS

228.91

202.67




89

68

Tata

136.88

153.78

40

30

Intel

228.45

250.11




90

82

China Telecom

136.84

140.64

41

36

Oracle

221.36

228.88




91

142

China Merchants Bank

132.39

88.80

42

35

PetroChina

203.18

233.17




92

84

FedEx

130.79

136.72

43

44

Allianz

202.64

209.37




93

101

JP Morgan

129.48

119.58

44

115

China State Construction

202.14

108.06




94

88

Lowe's

127.17

127.90

45

42

Sinopec

201.56

212.78




95

110

Accenture

126.87

110.87

46

47

Ford

197.71

203.15




96

122

Sumitomo (Conglomerate)

126.78

102.69

47

104

Huawei

197.43

116.21




97

112

EY

126.72

109.94

48

51

UPS

195.65

195.37




98

76

MUFG

126.51

145.11

49

39

Honda

193.32

224.24




99

111

Tesco

124.99

110.52

50

59

HP (Interim Value)

193.05

180.68




100

106

Ping An

124.28

115.13
GlocalWin对该文观点不作置评(GlocalWin does not intend to make any judgments as to the legal or other status of this Article)
全球百强品牌中国企业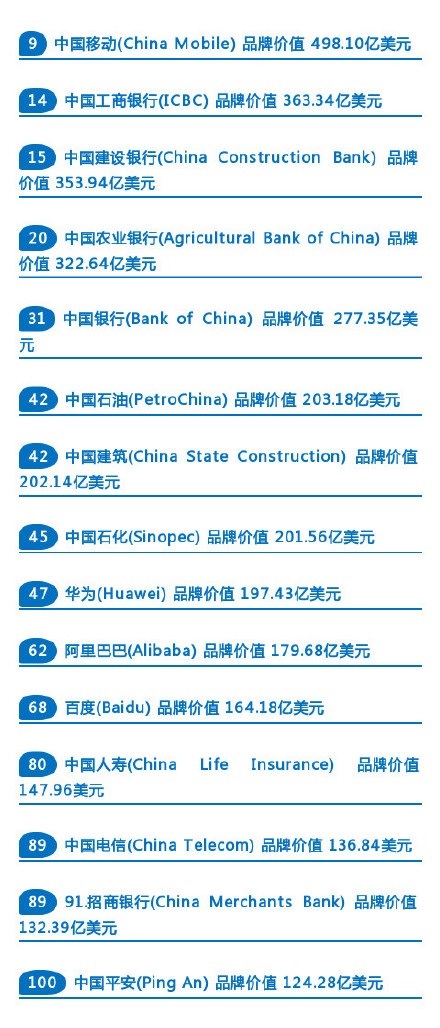 GlocalWin对该文观点不作置评(GlocalWin does not intend to make any judgments as to the legal or other status of this Article)
2016年全球最具价值品牌500强 苹果谷歌三星列前三 15家中国企业进百强